MADFINGER Games, a.s.
Internationally successful Czech start-up project, which creates games for mobile devices. They decided to do things differently in their own way. Thanks to the collaboration with Google and NVIDIA their games have already millions of players both on Android and iOS platform.
Awards
In 2016, Shadowgun Legends won awards Best mobile game at Gamescom.
In 2014, Monzo VR was selected as the Czech game of the year in the field of DesignCzech. Unique game where you can try to put Your favorite items together in virtual reality.
In 2012, Dead Trigger, first-person shooter with the theme of zombies and RPG elements. The game won at the conference of the Unity Awards 2012 in the categories of Best technical achievement and Community choice.
In 2010, Samurai II: Vengeance for iPhone, iPad, Windows and Mac. At Anifilm 2011, the game was selected as the Best Czech artistic achievement in game-making and the Best Czech game title for mobile devices.
Games 
A high graphic quality characterizes games from Madfinger Games comparable with games designed for game consoles and easy intuitive controls. Games win competitions and awards - Best App Ever Awards, App Store Best, Game of the Year, Hall of Fame, Mobile app of the year, Development Award.
Shadowgun: Legends, Monzo VR , Unkilled, Dead Trigger 2
Do you want to know more about Madfinger Games?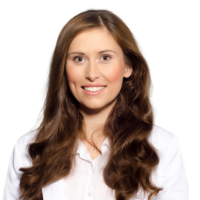 Contact Markéta
Markéta Stehlíková
Employer
---
Employer job offers
---
Contact form